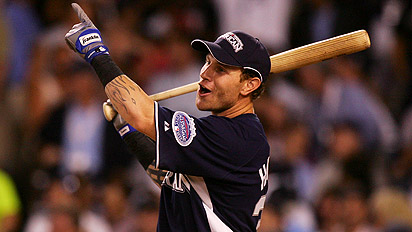 What can I say here? I really don't know what to say that
hasn't
already been said. If you
don't
know his story by now then you have been living in a cave the last 4 months or you either live overseas.
No he didn't win the Home Run Derby but he gave the fans of Major League Baseball chills and he gained a lot of fans last night, if you hadn't already become one. He was a winner even if he didn't go home with the hardware. He went home as the "Talk" of the HR Derby. Here is a guy who was the next "big thing" in baseball. The 1st overall pick of the
MLB
draft who signed for millions of dollars. He was a can't miss prospect! What happened? He did miss. But not because of his skills on the diamond but because of an addiction to cocaine and crystal
meth
. In a matter of 3 years, Hamilton had gone from the next "big thing" to the next "big flop". He was at the lowest of lows. He surrounded himself with scum and losers and had totally screwed up his life. Then, one night he showed up at his grandmother's doorstep 40 pounds below weight and strung out on drugs. That is when he got clean. He endured many long nights of withdrawals and nightmares. He got clean and got his life in order and became a born again
Christian
. He was blessed enough to be let back into baseball and started his career again with the Cincinnati Reds. Now, last year when he was called up with the Reds he had some good numbers in the second half and most people were happy for him but he was traded in the
off season
to the Rangers for Edison
Volquez
. I imagine most teams were hesitant to take a chance on Hamilton even though he seemed to have his life back in order. I mean he is a recovering addict who could relapse at any time. But I
don't
think he will. He has come so far and he is surrounded by wonderful people including his wife who stuck with him through all the trials and tribulations. He has a guy who stays with him basically 24/7 to keep him accountable. He says he never keeps more than 20 dollars cash on him. He doesn't go out with teammates after games and he doesn't do much these days but go to the ballpark and go home.
I am a fan of Hamilton and was before tonight but after what I saw tonight I will be a fan forever. He has a great story and I believe that many people could use him as a role model now to show that you can overcome adversity and you don't have to continue to live a lowlife lifestyle. If you saw his interview or have heard him speak at all, he is a very humble human being and he knows that he is blessed. When asked how it felt to
receive
all the attention tonight and how he felt he responded "I want to thank my Lord and Savior, Jesus Christ, who I glorify in all I do" and I don't think he was using a "Cliche" as some people do for show. He truly meant it by the sound of his voice as it cracked. He got a second chance and he is making the best of it. Not only is he a great story for Major League Baseball in the day and age of
steroids
but he is a great story for the human race! Josh Hamilton will probably never read this but I wish him all the best and hope he has a long and
successful
career in
MLB
! Good Luck Josh!