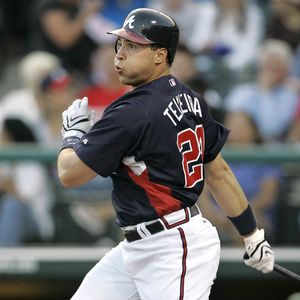 Rumors are swirling about a possible trade between the Red Sox and Braves. The deal is rumored to be Mark Teixeira for Kevin Youkilis and Craig Hansen. Now being a member of Red Sox Nation, this deal tickles my fancy quite a bit. Here is how I see it.....
Tex is a top notch first basemen who would make a great addition to an already stacked lineup. He plays good defense, as seen by his being a gold glove winner, and is a great bat in the middle of the lineup, especially if it is Papi, Manny and Tex. Now I am a fan of Yoooouuuuukkkk but compared to Tex there is very little to lose. The only thing I think you would lose is Youk is a fan favorite and a "gritty go get em" type of player who you very rarely see these days. I see Youk as a bigger version of Lenny Dysktra or Craig Biggio. Now Hansen on the other hand I could care less about losing. He is a former 1st round pick who has not lived up to the hype. He has a sick slider but the only problem is that he has no clue where it is going 90% of the time. He has a plus fastball but his control problems lead to a lot of walks and a lot of anxiety for Red Sox fans. Now, he is still young and very well could come into his own but I, for one, would be OK with this deal. I basically see it as Youk for Tex and I can live with that as long as we can sign Tex at the end of the year. I would not like to use Youk so we can rent Tex for 3 months. Tex is a free agent and if he has a good 2nd half then he will be seeking top dollar for his services. Now if we can sign him to a long term deal then I say go for it! Tex is 28 and Youk is 29 so the age difference is nothing and I see Tex with more upside the next 10 years.
Hopefully we can get Tex and I would love to do it without losing Youk but Papi is getting older and we may need the extra bat!